With the RSNA16 annual meeting now in our collective rear view mirror, it will be interesting to watch the trends from the show as they unfold in the new year. It was a whirlwind of meetings, product demonstrations and engaging discussions with customers and colleagues. The general consensus seemed to be it 'felt' like fewer people were in attendance at this year's meeting and the numbers are supportive but the content was as rich as ever. For those of us fortunate enough to attend, as well as those observing from a distance, there are some interesting trends we can look forward to following in 2017.

Advances in breast imaging continue. These improved technologies range from the more exotic, such as machine learning-enabled image evaluation to faster Breast MRI examinations and improvements in core screening technologies. Breast Density is now a key factor in diagnosis, with Volpara Solutions leading the way at RSNA. The expanding adoption of Digital Breast Tomosynthesis (DBT) is showing no slowdown. This is particularly good news for younger women who may be at a higher risk for false positives, as well as for Radiologists that will also benefit from DBT's enhanced effectiveness for visualizing architectural distortions that are among the earliest indicators of breast cancer. TeraRecon offers full DBT support as part of our breast imaging workflow with our Overlay PACS viewer, iReview.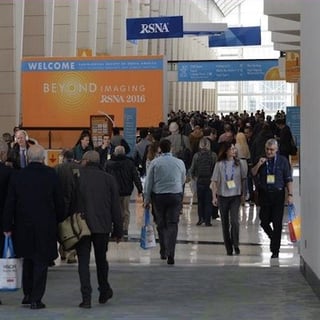 Artificial intelligence (AI) and the buzz around IBM Watson remained a hot topic with exciting new offerings from several companies. These medical uses of AI ranged from 'Big Data' analysis to Within Image Analysis (WIATM). TeraRecon's commitment to innovation in AI with the introduction of WIA Cloud and the application of machine learning were on full display as works-in-progress at this year's meeting as TeraRecon announced their new WIA, (Within Image Analysis) platform. These applications of AI and ML promise to reduce repetitious portions of the Radiologists' workflow. WIA will optimize the reading experience by looking within the images to guide the user and provide access to specialty tools, assist workflows and learn the user's preferences.
This was also a real "coming out" year for 3D medical printing. RSNA announced the creation of their first ever Special Interest Group and it was for 3D-Printing. http://www.rsna.org/3D-Printing-SIG/ There were dedicated learning tracks and demonstrations showing the full spectrum of advancements that will benefit patients and providers. Attendees at this year's meeting were excited about 3D printing, as nearly 40 lectures and discussions focused on this topic. Several 3D print manufacturers were in attendance showcasing the latest advances in 3D printing capabilities. Models were available for examination in a variety of sizes, shapes, colors and materials. TeraRecon debuted its groundbreaking 3D Print PacksTM in partnership with Whiteclouds, the industry leading 3D model manufacturing company. This partnership is a perfect marriage of TeraRecon's industry leading 3D segmentation software, iNtuition, with the 3D printing expertise of Whiteclouds. This unique eCommerce workflow allows iNtuition users to send images directly to Whiteclouds for a 3D print without having to convert to STL and all of its limitations. This 'what you see is what you get' approach to 3D printing is unique and powerful. Many attendees visited the TeraRecon booth more than once to see the amazing full color sand stone models on display. Sound exciting? Learn more here
With HIMSS, SIIM, and a full docket of radiology and subspecialty events, we'll have all of 2017 to watch these exciting technologies make positive impacts 'Beyond Imaging!'
Photo credt: AuntMinnie.com