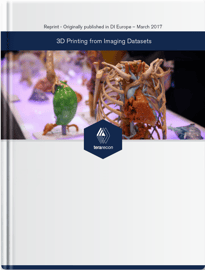 In this article from the March 2017 issue of Diagnostic Imaging Europe, Dr. Edward Quigley, clinical neuroradiologist and specialist in 3D printing, discusses the application of the technology to the 3D printing of radiology datasets to produce physical models of already imaged anatomical fields.
Sign up to:
Download the PDF version of the "3d printing from imaging datasets — another opportunity for radiologists?" article from Diagnostic Imaging Europe March 2017 issue

Hear about upcoming webinars and events
Be the first to receive brand new case studies, videos and updates
Opt-in in is required in order to receive the link to download the resource. You will receive an email with a link to download your requested item after form submission.