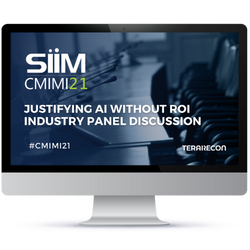 TeraRecon was proud to be a Platinum Sponsor during SIIM's Conference on Machine Intelligence in Medical Imaging (CMIMI) for 2021. Join TeraRecon President, Dan McSweeney, along with other industry leaders in this thought-provoking panel discussion.

Machine Learning and Artificial Intelligence promise to advance many facets of healthcare, and none more so than medical imaging. Intelligent Automation and Artificial Intelligence are technologies that unto themselves have shown productivity gains and advances in clinical acuity, but full impact has yet to be found. This is our second round of adoption – the first being PACS intelligently automated film replacement. Our industry is re-living cycle of adoption for the impact of AI initiatives with the battle scars to show for it.

You can learn more about SIIM's CMIMI here.

Objectives:

Discuss the medical imaging ML/AI landscape, which are technologies, features, products, or solutions
Recognize where ML/AI are required table stakes versus opportunities for differentiation
Identify the prospect for direct and indirect justification backed by reimbursement

Opt-in is required in order to watch this panel discussion.