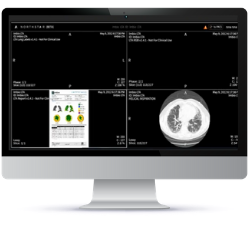 Watch our community webinar, "AI informed CT and the latest approaches to COPD diagnosis and management" with TeraRecon and EnvoyAI partner, Imbio. Learn about Imbio's Lung Density Analysis for chest CT scans that can aid in the early detection and improved management of COPD.

You will join Terarecon, along with Dr. MeiLan Han, Professor of Pulmonary and Critical Care Medicine at the University of Michigan, and Dr. Cathrine Keller, the Managing Physician of Lake Medical Imaging as they discuss the science behind COPD diagnosis and a recently released study* from COPDGene that proposes to redefine the diagnosis of COPD.

Opt-in is required in order to watch this webinar.