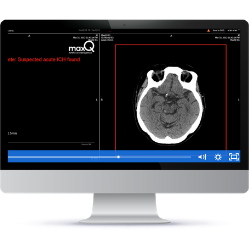 Watch our community webinar, "Improving Intracranial Hemorrhage and Stroke Prioritization with End-to-End AI" with EnvoyAI and TeraRecon partner MaxQ AI! To watch the webinar recording and be notified of future community webinars, please fill out the following form.
Just a few of the topics covered during the webinar include:
How integrated end-to-end AI workflows are delivering new insights and allowing physician interaction to optimize interpretations and accelerate care.
How AI can drive prioritization at the patient bedside through the EMR and near real-time in the radiologist's worklist to improve patient outcomes.
How TeraRecon, EnvoyAI and MaxQ AI are coming together to help solve prioritization challenges for non-contrast head CT's for trauma.
And much more!
Opt-in in is required in order to receive the link to watch the webinar.