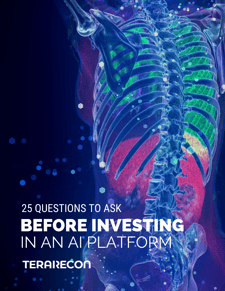 In recent podcasts, we've discussed the impact and benefits AI has on radiologists and patients — but how does one go about finding an AI platform and then implement it into their healthcare system? Download our list of questions that will help you consider the many factors that go into investing in an AI platform.
Contact us to find out how easy it is to implement AI into your interpretation workflow with our EnvoyAI Platform.

Fill out the following form to:
Download our list of 25 Questions to Ask Before Investing in an AI Platform

Hear about upcoming webinars and events
Be the first to receive brand new case studies, videos, and updates
Opt-in in is required in order to receive the link to download the resource. You will receive an email with a link to download your requested item after form submission.