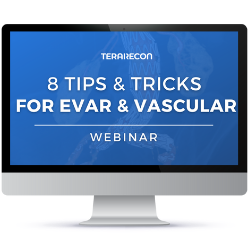 Whether you're new to Intuition, a veteran user who wants to see if there are other ways to optimize usage of the tools, or researching solutions, this webinar is for you. Your daily work systems are highly complex and evolve continuously to help make your workflows more efficient. In turn, the training you originally received may have developed a more straightforward approach.

This webinar will provide a deeper dive into Intuition's EVAR and Vascular tools and capabilities, along with some primary education on advancements to our system. TeraRecon's Key Site Manager, John Blatz, will show you some of his favorite tips and tricks and how to leverage these tools to achieve your desired advanced visualization outcomes faster, easier, and with fewer steps than you imagined possible.

In this webinar, you will learn about:

Creating and overcoming centerline issues
Editing Centerlines
The three different ways you can contour
Profile view, grid lines, and grid overlays
Approved FDA measurement protocols
Clockface Fenestrated Grafts
Navigating the help menu
Reporting

Opt-in is required in order to watch this webinar.