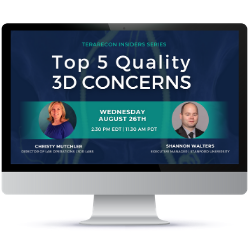 Join TeraRecon, Stanford Medicine 3D & Quantitative Imaging Laboratory, and 3DR Labs for the, "Top 5 Quality 3D Concerns" webinar to learn about some of the most important aspects 3D Labs face in Quality Control and how they keep track of their data for long term analysis.

You will join TeraRecon, along with Shannon Walters, Executive Manager, from Stanford University and Christy Mutchler, Director of Lab Operations, from 3DR Labs. They will discuss how quality is measured when technologists take on the responsibility of producing and ensuring high-quality images for radiologists, cardiologists, and other clinicians.

Shannon and Christy have put in a lot of time and energy into tracking these issues and they want to share it with the world so that 3D Labs can thrive!

Opt-in is required in order to watch this presentation.