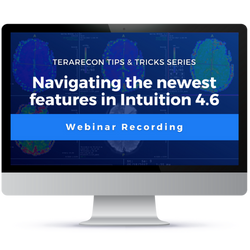 In the TeraRecon Tips & Tricks series, TeraRecon specialists, cover a variety of clinical workflow topics for new and experienced Intuition users alike. With the recent release of Intuition 4.6, we are eager to demonstrate the enhanced functionalities including dual monitor support, patient list filtering, glow rendering, new measurement tools, HL7 communication protocol, and an all-new neuro perfusion workflow!

TeraRecon Clinical Solutions Advisor, Luzi Benavides, will share valuable tips on how to utilize these new tools to enhance your TeraRecon experience. Join us and learn how to leverage clinical workflow excellence with Intuition and explore new orthopedic measurement tools, enhancements to current tools, and other helpful improvements.

In this webinar, you will learn about:

Orthopedic measurement tools: Cobb angle and TT-TG

Enhancements to FreeROI, G-tool, and CPR Batch

HL7 communications and GSPS support

New visualization options to include dual monitor support and glow rendering

Ease of use with patient list improvements and the series picker option

Improvements to the preferences for TAVR/TMVR workflows




Opt-in is required in order to watch this webinar.