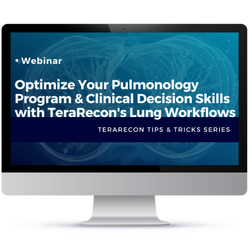 In this Tips & Tricks series, TeraRecon specialists, as well as guest experts, cover a variety of clinical workflow topics for new and experienced Intuition users alike. This month, learn how to utilize TeraRecon's lung package, including an extensive range of clinical and workflow tools for lobular lung, SAT & MT lung, lowATT, and LDA-II.

TeraRecon US Manager of Clinical Customer Success, Amanda Jung, will share valuable tips to help improve a clinician's ability to accurately and efficiently detect lung-related illnesses. In this webinar, explore lobular and trachea segmentation with volume calculations, the APS sphericity index scale within sphere finder to mark and track possible lung nodules, low attenuation with user-configurable range values, and disease progression assessments and quantification.

In this webinar, you will learn about:

Disease progression assessment and how to identify lung disease impact

Quantification of lung-related illness

Ways to quickly identify affected lung tissue and viable lung capacity

Tracking lung lesions and how to segment and analyze them over time

Loading preprocessed series quickly to display segmented lung and airway anatomy, then be able to fuse all anatomy for a comprehensive look at lung, airway, and vascular anatomy for pre-surgical assessment.



Opt-in is required in order to watch this webinar.