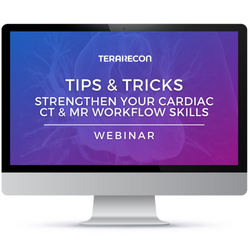 Whether you're new to Intuition, a veteran user who wants to see if there are other ways to optimize usage of the tools, or researching solutions, this webinar is for you. The systems you work in daily are highly complex and evolve continuously to help make your workflows more efficient. In turn, the training you originally received may have developed a more straightforward approach. This webinar will provide a deeper dive into Intuition's Cardiac CT and MR workflow capabilities.

TeraRecon Lead Clinical Success Manager, Eduard Gaspar, will show useful tips & tricks in Cardiac CT and MR workflows which will help the user expand their knowledge and leverage their skills to achieve desired outcomes in day to day practice and in more advanced types of scenarios.

In this webinar, you will learn about:

3D Template Upload and Utilization in 3D VR rendering
Cine Valves Video Recording
Workflow Elements Steps Modification
Useful Layout Options
Rotate Viewport
Link to 3D
Vessel Walking (Coronaries)
Cardiac MR LV/RV Ejection Fraction Editing Tools
Cardiac MR LV/RV Functional Workflow Options
And Much More.

Opt-in is required in order to watch this webinar.