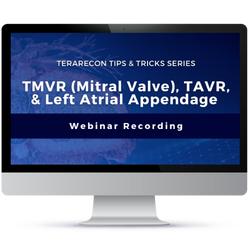 Whether you're new to Intuition, a veteran user who wants to optimize their usage of Intuition tools, or researching solutions, this webinar is for you. This month, we will dive into structural heart with TMVR (Mitral Valve), TAVR, and Left Atrial Appendage clinical workflows.

TeraRecon Customer Success Manager, Jason Hamilton, will share valuable step-by-step tips for visualizing and quantifying cardiac, coronary, and related structures for anatomic and pre or post-operative evaluations. This includes assessing and measuring different structures of the heart, including the aorta, aortic valves, mitral valve, and atrial appendages. Join us and learn how to leverage clinical workflow excellence in your cardiovascular and structural heart program.

In this webinar, you will learn about:

Aortic root segmentation and orientation
Centerline pre-processing and extractions
Key Transcatheter Aortic Valve Replacement measurements
Embedded geometry tool to visualize valve & stent placements
Neo-LVOT measurements
Left atrial appendage measurements
And much more

Opt-in is required in order to watch this webinar.