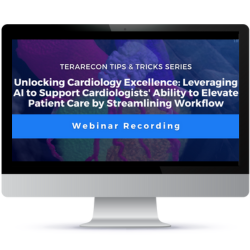 This engaging webinar is dedicated to unveiling the potential of AI-Powered Solutions in the realm of cardiology. This session explores TeraRecon's Cardio Suite which provides solutions to help reduce image processing and interpretation times and ensure consistency and accuracy to help expedite disease diagnosis, care coordination, and provide the data to support treatment decisions for cardiac patients.
A moderated panel of thought leaders share their perspectives about the benefits and the potential of AI to optimize cardiology care delivery.
This webinar discusses:
Unmet needs in cardiology and the potential of AI in addressing these challenges.
Employing AI to empower cardiologists' ability to elevate patient care by streamlining workflow.
Featured solutions available on Cardio Suite including echo-based Us2.ai and CT-based Coreline Soft.
Opt-in is required in order to watch this webinar.