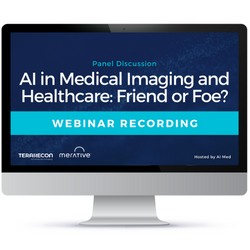 The role of AI in healthcare continues to expand, spanning the spectrum from aiding diagnosis and treatment to AI powered post-processing, to optimizing workflows and ultimately risk stratification and patient management.
This begs the questions:
How do we balance the short-term concern around AI algorithm readiness vs. the longer-term objective of utilizing AI in support mode?
Are AI algorithms and solutions ready for prime time?
What about the long-term concerns about whether AI will replace radiologists or other key decision makers?
A moderated panel of thought leaders will share perspectives on trends in the use of AI in medical imaging and healthcare. Brought to you by TeraRecon and Merative, in partnership with AI Med, this webinar will inform and provoke your thinking.
You will come away with:
Diverse viewpoints on value of AI to improve outcomes, streamline workflow and reduce physician burnout
A range of opinions on the role of the imaging professional (radiologist, cardiologist, etc.) in adjudicating AI results and findings in a way that complements their workflow and enhances their productivity.
Thoughts on the value of vendor approaches to AI consolidation — to standardize deployment and support providers while scaling AI solutions

Moderator: Ajay Choudhri, MD, Chairman of Radiology, Capital Health

Featured Panelists:
Matt Dewey, MMCi, Chief Information Officer, Wake Radiology Rex UNC Healthcare
David Gruen, MD, Chief Medical Officer, Merative
Eliot Siegel, MD, Vice Chairman of Radiology and Professor at University of Maryland
Sinan Batman, CTO of TeraRecon
Opt-in is required in order to watch this panel discussion.